Indian of the week 04/07

Represented vociferously many Indian Malaysian prison death victim's family against Malaysian police. But strangely ran away to London seeking political asylum that stunned everyone.

1998
Detained under ISA
1983
London MIC Assistant Secretary

Legal advisor to Hindu Rights Action Force (Hindraf)

Pro-tem secretary-general, Parti Reformasi Insan Malaysia (Prim)
Adviser, Police Watch

Champion of Hindu rights, helping the helpless and highlights police brutality, but sometimes one wonder if Uthayakumar is really a champion or simply a publicity stunt master exploiting issues to climb the political ladder.

Obtained his law degree in United Kingdom through MIED (MIC education arm) loan. Being an active MIC London club committee member, sources say, he received many favors from Samy Vellu.

During Ijok by-election, he supported Samy Vellu's candidate and praised him as hope of indians

Now, wants to meet PM Badawi to discuss the 18-point memorandum by HINDRAF. He says: Badawi is our hope.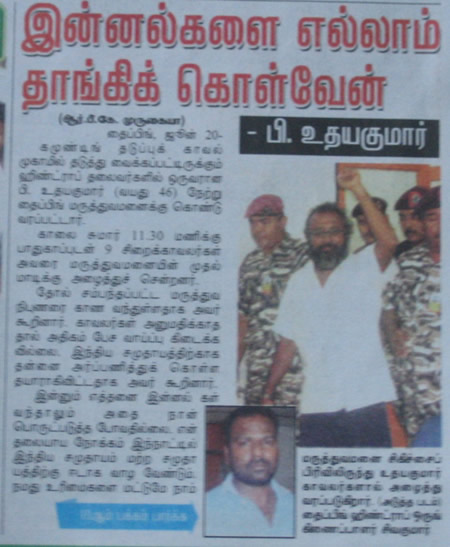 malaysia nanban


Uthayakumar launching HRP 1

Uthayakumar launching HRP 2
"I am rather sad to hear that there are groups who still claim that the Indian community is 50 years backward despite the continuous efforts taken by the government to address the needs of the Indian community. Any fair minded person would acknowledge the many achievements of the Indian community in economics, religion, education and social aspects," - Samy Vellu