Hindu Rights Action Force (Hindraf)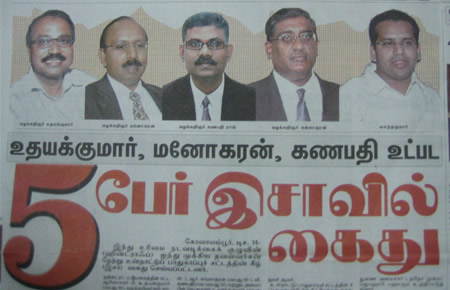 Makkal Osai 14/12/07
Five Hindraf leaders arrested under Malaysian draconian Internal Security Act which allows for detention without trial.
The five detained
1) P. Uthayakumar
The 46-year-old lawyer was called to the Malaysian Bar on Jan 23, 1993. He is the legal advisor to the Police Watch and Human Rights Committee and advisor to the Malaysian People's Reform Party (Parti Reformasi Insan Malaysia or PRIM). He had been a secretary of the MIC Club in London and has appeared in a number of cases related to police abuse, deaths in police custody, police shootings and police inaction. He had also taken part in the reformasi campaigns in support of sacked Deputy Prime Minister Datuk Seri Anwar Ibrahim.
2) M. Manoharan
The 46-year-old Manoharan has been a lawyer for 15 years and was a legal assistant to Karpal Singh for 10 years before branching out on his own. He has been in the DAP and had contested in a parliamentary seat in Federal Territory and was also the Selangor DAP chairman for a short term.
3) V. Ganabatirau
Advisor to the DAP's Sri Muda branch in Shah Alam.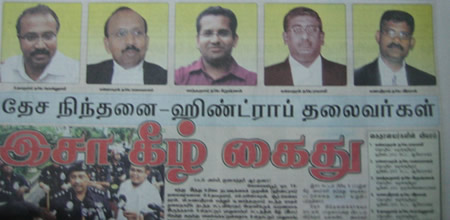 Malaysia Nanban 14/12/07
4) R. Kenghadharan
He is a lawyer and was one of the counsels for Uthayakumar when the latter was charged in court for publishing a seditious letter in a website.
5) T. Vasanthakumar
The former bank officer resigned about a month ago after his employers asked about his involvement with Hindraf. He is in his 30s and single. He is now a full-time Hindraf activist and its organising secretary.
source: The Star
Thousands of activists gathered near a detention camp
Sunday, Dec 16, 07
(AFP) - Thousands of activists gathered near a detention camp where Malaysia is holding five leaders of a ethnic Indian group and freed pigeons to demand their freedom, a rights group said Sunday. (....more)
Info Ministry Inviting Indian Journalists To Malaysia - Zahid
Dec 8 (Bernama) --
The Information Ministry is inviting Indian journalists to Malaysia to see for themselves the quality of life enjoyed by the Indian community in the country and to provide a clearer and accurate picture to the Indian government. (......more)
India summons Malaysia`s Acting Envoy

New Delhi, Dec 04: Amid demands for action on the issue of alleged mistreatment of ethnic Indians in Malaysia, government here summoned the Acting High Commissioner of the country to convey the "widespread concern" here over the developments. (
......more
)
Beyond Samy Vellu: The time has come

Sunday, Dec 02, 07
Samy Vellu came to be MIC president in 1979. It is been 28 years. In MIC president election cycles, Samy Vellu claims he is running because he has unfinished tasks to accomplish for the Indian people in Malaysia. What kind of leader takes 28 years in power and still have unfinished business for the Indian people? (
.....more
)
Devil is in the detail

Friday, Nov 30, 07
Dato Samy Vellu is going to setup a toll-free hotline. He will personally take calls from us. He will take detailed notes and then he will go to Parliament. He will present our case to Parliament and debate for actions. (.....more)
Attacks dogs from UMNO
Friday 30/11/07
Naziri Abdul Aziz is calling those who want change as thugs. I wonder if Aziz feel *** are thugs for running amok whenever their status is questioned. The reality in Malaysia today is that you cannot have any gathering without permit. Permits are always issued by police and never on merit alone. Any gathering that challenges the ruling government is illegal by definition. (......more)
Malaysia's Anwar condemns use of security law
Fri Dec 14, 2007

By Clarence Fernandez
(Reuters) - Five ethnic Indians held under a Malaysian law that allows detention without trial should be charged in court immediately to avoid the risk of rights abuse, Malaysian opposition figure Anwar Ibrahim said on Friday. (.......more)
Is image more important than equality?
Deputy Prime Minister thinks Hindraf actions to take the plea of Malaysian Indian will tarnish the image of the Malaysia. Here is a novel idea. In order to not tarnish the image, let's have all Malaysian citizens to have e equal right status. Let Indians be able to buy houses at 10% discounted price. (......more)
Indians face no threat in Malaysia, says delegation


12/10/2007
30,000 Indian Malaysians demonstrated against the continued marginalization of the community but that did not convince Makkal Osai Tamil daily Sunday edition editor who says otherwise (…more
Warning to Hindraf
Sunday, Dec 09, 07
You have awakened a generation of silent Indians. You have paved the way for those who saw hopelessness. You have put the government on watch regarding Indians welfare. In order to sustain the movement you must focus on what is achievable. Don't get caught in quack mire of genocide and ethnic cleansing. (.....more)
Samy Vellu Vows To Fight On For Indian Community
By S. Retna

Dec 21 (Bernama) -- "I will continue to fight for the betterment of the (Indian) community. The question of the MIC (Malaysian Indian Congress) being dented from recent incidents does not arise," said Datuk Seri S. Samy Vellu, the MIC supremo. (.......more)
Pyramid Saimira To Invest RM84 Mln In Malaysian Expansion

By P.Vijian
NEW DELHI, Dec 21 (Bernama) -- As part of its expansion plan, India's leading entertainment company Pyramid Saimira Group will invest nearly RM84 million next year to convert its cineplexes in Malaysia into full-fledged digital screens and add hotels to its entertainment complexes. (
....more
)
Johor Addresses Problems Of Indian Community
Dec 20 (Bernama) -- The Indian community in Johor has never been marginalised by the state government which has given attention to their educational, religious, social and cultural needs, Johor MIC Liaison Committee chairman Datuk K. S. Balakrishnan said here. (......more)
31 Demonstrators Acquitted And Discharged Of Attempted Murder


Dec 17 (Bernama) -- The Sessions Court here today acquitted and discharged 31 people charged with attempting to murder a police officer during an illegal assembly organised by the Hindu Rights Action Force (Hindraf) in front of the Sri Subramaniar temple in Batu Caves, near here, on Nov 25.

(....more)
Spineless Subra justifies ISA arrest
Saturday, December 15, 2007
"Hindraf leaders need to bear the consequences for their actions. They must be ready to face ISA (Internal security Act) or any other legal actions by the Malaysian authorities for their baseless accusations and lies. These kinds of lies could cause serious divisions in our multiracial society", said Subramaniam, former MIC deputy president in an interview to Utusan Malaysia. (.....more)
Samy Vellu To Hit The Road To Solve Problems Faced By Indians
Dec 26 (Bernama) -- "I am going to go from place to place and shoot down any problems the Indians may be facing," he told reporters after opening the newly-refurbished Pagoh rest area on the North-South Expressway (southbound) near here today. (........more)
Racial Sensitivity: the new slogan for Umno Monday, December 24
The idea is that if anyone says anything that slightly touches the Malays privileges, then it becomes "racially sensitive". Now Gerakan (used to be an opposition to Barisan Nasional) wants to disciplined it own member for agreeing with Hindraf (....more)
Samy Vellu Puzzled Why Indians Lack Interest In Govt Jobs
Malaysia to Protect Hindu Temples
By Vijay Joshi, Monday Dec 24, 2007
Malaysia (AP) - Malaysia's government unveiled Monday a major initiative to protect Hindu temples, hoping to pacify ethnic Indians who complain that hundreds of their places of worship have been demolished in this Muslim-majority country. (....more)