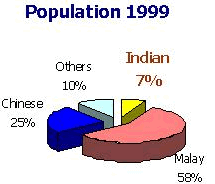 Tamils form 70% of Indians. Other linguistic groups: Telugu, Malayalee, Punjabi, Bengali and Ceylonese Tamil
80% of Indians are Hindus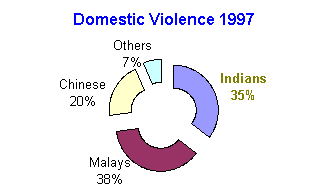 Source: Economy Report 1998
If you or you know someone who needs help, contact: Woman's Aid Organization Email: wao@po.jaring.my
Tel: (04)228-0342, (04)228-5784, (07)222-1555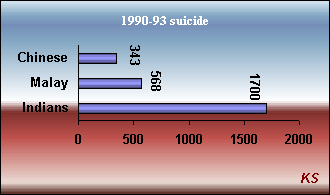 38 Indian gangs with a membership of 1,500 involved in extortion, drug pushing and robbery
186 Indian thugs had so far been banished to Simpang Renggam under the Emergency Ordinance while the number of Chinese was 162 and Malays 60.
- Police Chief (Bukit Aman CID deputy director Senior Asst. Comm I) Datuk Ramli Yusof 10/09/00
Indians arrested under emergency ordinance 1996

Year

Arrested

1996
69
1997
130
1998
162
1999
179
Aug 2000
111
Another opinion, based on a selective use of mostly American studies on the relationship between media and violence, institutionalised by Consumers Association of Penang (CAP), suggests that the central agency causing the problems within the Tamil community, in particular gangsterism, stems from the Tamils watching Tamil cinema. (M Nadarajah)....... Marginalisation, not Tamil movies, the cause of violence
Many middle- and upper-middle class Tamil/Indian Malaysians hold a view that Tamil schools are practically useless. Students in Tamil schools do not benefit either educationally or economically. And, worse, Tamil schools have become a hotbed for nurturing and sustaining vices and gangsterism..(M Nadarajah)........Is abolishing Tamil schools the solution?
Independence for Indians K Kabilan (Malaysiakini)
Nagging pains of local Indians A.LETCHUMANAN reports.
Middle-age crisis I have stopped feeling at home in Malaysia. There is a great deal of uneasiness. Someone out there may want to shout at me: "Go back to India, if you want!" M Nadarajah (Malaysiakini)
The Malaysian Indian in the New Millennium By: PROF. DATO DR. C.P. RAMACHANDRAN

The Indian Economic Position in Malaysia: A review of Performance & Priorities for Action by: R Thillainathan