e7
Indian of the week
Star of the week 2007
Star of the week 2006
Star of the week 2005
Hindraf leaders arrested under ISA
15 orang ditahan termasuk Remaja 13 tahun!
Samy Vellu Admits Illegal AssembliesAffect Indian Community's Loyalty
PM Asks AG To Consider Dropping Attempted Murder Charges Against 31
Tahanan dibebaskan, kereta terbakar, barangan mereka masih 'ditahan'
Uthayakumar arrested this morning
Dec 11, 07 10:18am
Lawyer P Uthayakumar was arrested this morning outside his home in Bangsar and taken to the Jalan Duta courts in Kuala Lumpur (
.......more
)
Malaysia detains Anwar, arrests Indian lawyer

Tue Dec 11, 2007
KUALA LUMPUR (Reuters) - Malaysia on Tuesday detained de facto opposition leader Anwar Ibrahim and arrested a human rights lawyer and about a dozen opposition leaders, amid growing complaints the government was harassing opposition politicians. (
...more
)
Karunanidhi conned into supporting HINDRAF in 'larger conspiracy'?
Natteri Adigal
Five more face attempted murder rap
Malaysiakini
It's apartheid, says poet who fled Malaysia
DNA India
Shocked by 'apartheid' report
The Star, Wednesday December 5, 2007
Maverick Malaysian Indian lawyer says fears arrest
By Jalil Hamid, Reuters
Anwar ingatkan jangan terpedaya dengan taktik Umno
Hindraf rally: 26 charged with attempted murder for attack on cop
NST
Hindu Rights Action Force (Hindraf)
Hindraf 31 released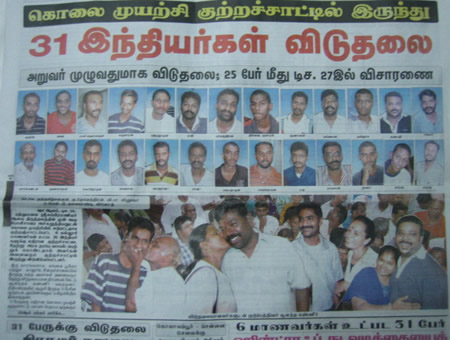 Makkal Osai 18/12/07
Hindraf 31 released

Two guys claim credit for 'Hindraf 31' release in the daily they owned without any compunction. They never uttered a word for the first 10 days of the arrest, never attended the court proceedings, never posted bail, never hired a lawyer to represent the victims and yet they use their daily's to hoodwink the Indian community.

Tamil Nesan gives the credit to Samy Vellu

Makkal Osai gives the credit to Subramaniam
Postmortem on Hindraf rally (1)
By Helen Ang, 17/01/01 limkitsiang.com
The authorities are now intimidating Hindraf donors. And Samy Vellu was in India, saying everything's hunky-dory, defending his Umno bosses. While civil society here is grappling still with the ramifications of the Nov 25 rally. (.....more)
Crack in 'Hindraf 5'
Saturday, January 12, 2008
DAP MP Kulasegaran has hinted in his speech at a Ponggal harvesting festival yesterday in Port Klang that there is a crack in the relationship of the five Hindraf leaders arrested under Malaysian draconian Internal Security Act (ISA), without going in details. Also, he appealed to the media present not to report on this matter. But many in the crowed were whispering.
Apparently, four of the arrested -- Ganabathirau, Vasanthakumar, Kenghadharan and Manoharan have turned against Uthayakumar accusing him of misappropriating the Hindraf funds collected from the public running to more than a million. It seems the four had made a police report.
We are not disunited, we will continue fight Tuesday, January 15
They are resolved to fight for the betterment of the Indian community and have not wavered in any way to any of the demands made to the government in particular the 18 point demand. - edia statement by M.Kula Segaran MP Ipoh Barat (...more)
Lima Pemimpin Hindraf nafi mereka berpecah.
January 15, 2008
"Mereka menafikan wujud sebarang masalah antara mereka dan menolak sebarang dakwaan mengenainya sebagai satu pembohongan," kata Kula Segaran (...more)
Hindraf chiefs to go on hunger strike if not freed
The Straits Times, Jan 15, 2008
'The government has to be mindful that the Indian community is angered by (recent developments). If the government thinks the Indian votes are not important and that the Malay votes are sufficient, then it might not consider the release,' political analyst P. Ramasamy told (.....more)
M'sia-India ties not affected by Hindraf, says Samy The Star
"All of them received the explanation well, with the exception of Tamil Nadu Chief Minister M. Karunanidhi. He has already made up his mind that whatever Hindraf said was right," he told reporters on the sidelines of the Pravasi Bharatiya Divas here Wednesday. (......more)
Karunanithi rebuffs Vellu
Saturday, January 05, 2008
By: Traveler
Malaysian senior cabinet minister Samy Vellu's attempt to meet Tamil Nadu chief Minister Karunanithi since his visit to Chennai on Dec 29th apparently failed, according to local Tamil dailies. (....more)
Subra is behind Hindraf - Vellu

Saturday, January 05, 2008
By: Traveler
MIC President Samy Vellu, who is in Tamil Nadu attending several functions and meeting top politicians in order to discredit Hindu Rights Action Force (Hindraf), accused his former deputy S Subramaniam as the man behind Hindraf in an interview to
Kumudam Reporter
, a leading Tamil weekly. (
....more
)
Global rights group accuses Malaysia of silencing minority after ethnic Indians'

The Associated Press
December 18, 2007
An international human rights group called on Malaysia Tuesday to release five ethnic Indian activists who have been detained without trial, and accused the Muslim Malay-dominated government of trying to silence a minority. (
.....more
)
Badawi will disappoint Malaysian Indians 18/12/07

Now that Hindraf leadership is in prison, the NGO meeting was nothing by hog-wash attempt at best by Badawi. Already the request from NGO for non-Muslim affairs department has been turned. (
...more
)
DMK meet seeks equal rights for Malaysian Tamils

Tirunelveli (PTI): 17/12/07 The Youth wing conference of the DMK being held here asked the Centre to take appropriate action to enable Indian Tamils in Malaysia secure 'equal rights' as enjoyed by other communities there. (
.....more
)
Uthayakumar's Interview

10 December, (Asiantribune.com): Sami Velu is a proxy of the UMNO led Government. In exchange for the salary, the royal awards and also some Government contracts he may gets, his job is to cheat the Indian community. His full time job is to cheat the Indian community and short change the Indians. (
....more
)
Internal Security Act Flung at Peaceful Protestors

By Baradan Kuppusamy
Dec 12 (IPS) - An old fear, not felt since the dictatorial Mahathir Mohamad retired as prime minister in 2003, has returned -- fear of arrest without trial and indefinite incarceration without being charged. (
....more
)
Malaysian Minister claims 'some' Indian group behind protests
Friday, December 7, 2007 The Hindu
Someone is behind them from India... some organisation... to create civil disobedience. They have their own objective and they succeeded in their first attempt when Hindraf (Hindu Rights Action Force, a non-governmental Organisation) called for the demonstration in November," Samy Vellu, the Indian-origin Minister for Works, told PTI. (.....more)
Hindraf Will Not Give Up Even If We Are Fighting A Losing Battle
Thursday, January 03
"I will never regret for initiating HINDRAF and leading it to its current struggle. The Malaysian Indians have been cheated by the UMNO led Government over the last 50 years using "coalition" Indian political parties to pacify the Indian community whenever they complain their rights are trampled upon. The UMNO Government"s "divide and rule" policy seemed to have succeeded but not any longer. The Indian community can no longer be cheated". (......more)
A needlessly sharp reaction
Rasheeda Bhagat
Wednesday, Dec 05, 2007 Business Line

When persons belonging to a religious minority resort to a peaceful protest to highlight their plight, and is brutally suppressed, the country of their origin will take note. And when that country is a fast growing economic power, as India is, its voice cannot be stifled and its leaders cannot be asked to shut up, as Mr Aziz has done. (
........more
)
AG's Hindraf selective and malicious prosecution - widening crisis of confidence

Sunday, 09/12/07 Lim Kit Siang
The Attorney-General Tan Sri Gani Patail should drop the charge of "attempted murder" against the "Batu Caves 31" and abandon the manhunt to charge at least another 30 on the same count as it will result in a new crisis of confidence in the administration of justice over selective and malicious prosecution in the abuse of the Attorney-General's discretionary prosecution powers. (
....more
)
Hindraf ISA arrests: BN govt has lost its moral authority
Thursday, 13 December 2007
Aliran condemns the arrest today of five Hindu Rights Action Force (Hindraf) leaders under the obnoxious Internal Security Act. Those detained were Hindraf legal adviser P Uthayakumar, lawyers M Manoharan, R Kenghadharan, V Ganabatirau and organising secretary T Vasanthakumar. (
......more
)
Is it National Security?
Saturday, Dec 15, 07
A peaceful street demonstration is not a threat to national security. Malaysia would not be celebrating 50 years of independence if not for street demonstration. A peaceful street demonstration is justified when legitimate change cannot be achieved through a corrupt system of government. (
......more)

The Root Causes Of Hindu Anger
B. RAMAN , outlook India
Denial of the historic influence of Hindu religion and culture over the evolution of civilisation and culture in Malaysia and frequent instances of demolition of Hindu temples lead to unrest. But excessive rhetoric wouldn't (.....more)
Badawi has two concerns only

Wednesday, Dec 12, 07 anonymous
From Bersih to Hindraf, the minorities in Malaysia have been awakened. They seek fairness in every aspect of government dealings. All the arrest that is happening today is to protect the Bumiputra's and UMNO's unchallenged status. (
....more
)
Uthayakumar freed on police bail
Drama in Malaysia's House, more opposition leaders held
Today Online
They Don't Love The Nation, Says Abdullah (Bernama) 13/12/07
Malaysian activists held under security laws: spokesman (AFP) 13/12/07
Malaysia detains ethnic Indians under security law Thu 13 Dec 2007, 07 (Reuters)
US demands due process for arrested Malaysian activists (AFP) Dec 14, 2007
US looks on as Malaysia wobbles
By Tony Wilson
Asia Times Online Dec 14, 2007
Man behind Indians' protest stirs up mixed feelings
By Carolyn Hong,
The Straits Times
Cry from the margin
P.S. Suryanarayana
in Singapore , Frontline