Malaysia's PM Najib Hangs On
Asiasentinel, 06/07/15 --The question is whether, in the face of the devastating charges and the lack of a Clinton-like denial [I did not have sex with that woman] he can manage to replicate the repeated votes of confidence he has wrung from UMNO leaders in the past.
According to several sources in Kuala Lumpur, the revelations might help to speed a realignment of the country's long-standing political structure. That was signaled by a statement of seeming support for Najib on Saturday by Harun Din, the spiritual leader of the fundamentalist Parti Islam se-Malaysia, or PAS, which for the past seven years has been an integral part of the Pakatan Rakyat opposition coalition.
Could this be the Smoking Gun for Malaysia's PM?
Asiasentinel, 04/07/15 -- Those emails were passed to Clare Rewcastle Brown, the editor of Sarawak Report, and reportedly to Mahathir. Justo's arrest and accusations that he had tampered with them to make them more damaging is considered to be part of a move by Najib to discredit Mahathir before he could feed more documents and evidence to the press. Mahathir is believed to have additional evidence of illegal transfers of money out of the country by Rosmah Mansor, Najib's wife, with the help of Jho Taek Low, the flamboyant young financier who helped Najib set up 1MDB in 2009.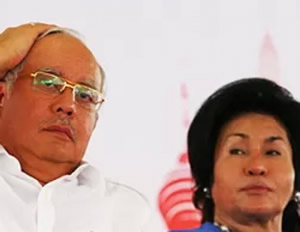 He is said to also have additional information about the mysterious death of Altantuya Shaariibuu, the Mongolian translator and party girl who was shot to death by two of Najib's bodyguards in 2006. The murder remains one of the most sensational in recent Malaysian history.
Malaysia's PM Extends Feud to Mahathir's Son
Asiasentinel, 02/07/15 -- Last August, after two years of growing behind-the-scenes impatience, Mahathir first announced on his blog, Che Det, that he was "withdrawing support" from the prime minister. His attacks have grown steadily more vitriolic as the months have worn on. Najib has returned the fire with increasing intensity, seeking to tie Mahathir to what he claims was a rigged attempt to discredit his 1Malaysia Development Bhd. state investment fund by a Swiss businessman and Clare Rewcastle Brown, a UK-based journalist who blogs at Sarawak Report. Brown has fired back with a libel demand against a research firm that claimed documents she printed had been doctored.
Indian community deserves better
The New Straits Times, July 01 2015 -- It appears that all these ego-inflated MIC leaders are selfishly guarding their positions and its associated goodies at the expense of the Indian community. If the warring MIC factions were sincere in wanting to serve the community, they should have reached a compromise by now. The MIC crisis has put the Indian community into disrespect. The weakening of MIC's position in BN has been taken advantage of by certain individuals and groups to humiliate the Indian community indirectly. If MIC had been strong and committed to serving the community, I don't think the "drink your own urine" remark would have been made.
MIC struggle is all about who gets what
FMT, June 28 2015 -- Leadership conflicts in the MIC have nothing to do with the progress or development of the Malaysian Indian community, but about leaders having access to power, prestige and wealth.
It is a figment of imagination that the defeat of forces aligned to Palanivel will ensure a "new era" for the community, as suggested by Subramaniam.
Subramaniam is completely dependent on Samy Vellu. For all intents and purposes, it is the latter calling the shots.
On the other hand, Palanivel has promised to retrieve back all the properties in the form of land and buildings "hijacked" by Samy Vellu and his cronies in the past. Will he able to do it? What about his long association with Samy Vellu as his trusted lieutenant?
M Suganth, TNN, Jun 26, 2015 -- The problem with Kaaval is that it offers nothing new in terms of story and presentation. Almost every development feels been there done that. The story of an encounter specialist is something that Gautham Menon did with much finesse in Kaakha Kaakha, and this film hardly adds anything to it. Interestingly, the director ropes in Gautham to provide the voice-over in the opening scenes. The villain is the generic gangster that we often see in our films and so, he hardly comes across as a formidable foe. Then, there is the heroine character, who simply exists because there needs to be a love interest for the hero.
Malaysia Human Rights Practices for 2014
June 26, 2015 -- Three constitutional articles provide the basis for an independent judiciary; however, other constitutional provisions, legislation restricting judicial review, and additional factors limited judicial independence and strengthened executive influence over the judiciary.
Members of the bar, NGO representatives, and other observers expressed serious concern about significant limitations on judicial independence, citing a number of high-profile instances of arbitrary verdicts, selective prosecution, and preferential treatment of some litigants and lawyers.
On March 7, the Court of Appeal overturned the 2012 acquittal of opposition leader Anwar Ibrahim on politically motivated charges of having engaged in consensual sodomy in 2008. The entire procedure was unusually speedy, with the verdict delivered just before the nomination day for a by-election Anwar was slated to contest, thereby disqualifying him
Whistleblower on Malaysia's 1MDB Arrested in Thailand
Asia Sentinel, June 24 2015 -- According to the PetroSaudi release, Justo left the company four years ago. The oil exploration firm paid him Bt140 million [US$4.1 million] when he left, according to Thai Police Colonel Akaradech Pimonsri, acting commander of Thailand's Crime Suppression Division, after he was found to have "behaved against the company's rules and regulations."
That in itself is a strange statement. If he had behaved contrary to the company's operations, it seems likely in most companies that he could have been fired outright without any compensation.
Malaysia's PM Najib: Immovable Object
Asia Sentinel, June 23 2015 -- Shahrizat reportedly said Najib was wrecking the party and looting the country. She also criticized Najib's wife, Rosmah Mansor, for her extravagance, the source told Asia Sentinel. The meeting, which included the party's three vice presidents and other top members, appeared to have agreed with Shahrizat, the source said. Muhyiddin has been aligned with former Premier Mahathir Mohamad on a months-long, off-again, on-again campaign to push Najib out of office.
Corrupt overseas buyers ramp up property price, burn locals
The Age, June 23 2015 -- Fairfax Media can reveal that a group of super-rich Malaysian officials, spending their own government's investment funds, have bid up the price of a Melbourne apartment block from $17.8 million to $22.5 million. The extra $4.75 million was then laundered out of Australia and allegedly paid as bribes in Malaysia.
Palanivel, Subramaniam To Woo MIC Branch Chairmen At PWTC This Weekend
June 19 (Bernama) -- The second-leg battle for the MIC presidency will begin when party president Datuk Seri G. Palanivel and his deputy, Datuk Seri Dr S. Subramaniam meet MIC branch chairmen tomorrow and Sunday, respectively.
Power Struggle in Malaysia Pits Former Premier Against a Protégé
New York Times, 17/06/15 -- "The prime minister is focused on political survival when the country's economy is slowing due to low oil prices and falling exports resulting from China's economic slowdown," he said. The combination, he said, is "giving pause to the foreign investors Malaysia is seeking to court."
The sour economy has also thrown into relief what Mr. Mahathir and others describe as the Najib family's jet-setting lifestyle of shopping trips in world capitals and the buying of expensive real estate in the United States.