Murder in Malaysia
Malaysia's Mahathir & Razaleigh Teaming Up to Sink Najib
Asiasentinel, 12/08/15 -- There is a leadership crisis in Malaysia and the consensus is that only one candidate can end it," said a longtime friend of Razaleigh who played a role in setting up a meeting between the two figures. "That is Ku Li [Razaleigh's nickname], the only solution. The question is how to put together the mechanics of how it is to be done."
Sources in Kuala Lumpur say Najib has dug in his heels and refuses to entertain the idea of stepping down voluntarily. It is believed he has threatened to bring down other politicians and officials with him if he is forced out.
Friends and associates of Razaleigh have been trying for weeks to persuade him to join the effort to oust Najib. But the fact that the former enemies within the United Malays National Organization would seek common cause is an indication of how deep Malaysia's political and economic crisis has become.
Malaysia's Prime Minister: A Dead Man Walking?
Forbes, 9/8/15 -- It appears that 'the government' and its 'agencies' (e.g. the Attorney General's Office, the MACC, the Central Bank) are divided on 1MDB. It appears that some are aligned to protecting the Prime Minister, others intent on removing him, and some who are just doing their work. I discuss this in next week's article.
Najib's Bank Funds Spirited Overseas?
Asiasentinel, 6/08/15 -- More than RM1 billion [US$308 million at 2013 rates] of the US$681 million that supposedly was routed to Prime Minister Najib Tun Razak's AmBank account in Malaysia from mysterious Middle Eastern potentates — if they exist –was spirited back out to overseas accounts, presumably in Najib's name, sources have told Asia Sentinel.
Nobody contacted by Asia Sentinel was able to speculate on where the money went overseas, although it is said to have been moved in September of 2013. However, Malaysian banking laws require that the movement of more than RM200,000 triggers notification to Bank Negara Malaysia, the country's central bank. Top central banking officials presumably have information on all major transactions by the ill-starred 1Malaysia Development Bhd., which has been the focus of prolonged controversy over its massive debts. And while the contribution to Najib to AmBank reportedly was routed through another company, that transaction would certainly have triggered notification to the central bank.
Malaysian PM's Successful Defensive Game
Asiasentinel, 30/07/15 -- In the latest case, Rewcastle Brown said she had verified the documents with senior officials before printing them. Gani Patail has been silent on it. It could have been assumed that if it was a fake, he would have denounced it as well. If it is a fake, it is a good one. She got support from Americk Sidhu, a Kuala Lumpur-based lawyer.
"The way those charge sheets are drafted indicates the person tasked with that job knew what he was doing," Sidhu said. "There is a complex legal structure to both charges (in the alternative) which any layman would not be able to understand or even appreciate. The details are also too intricate to be made up. Remember these were still drafts. The final product would have been a little different but the substance would remain."
Malaysian PM's Wife Seeks Central Bank Governor's Ouster
Asiasentinel, 30/07/15 -- Prime Minister Najib Razak's controversial wife, Rosmah Mansor, is trying to drive another powerful woman, internationally respected Bank Negara Governor Zeti Akhtar Aziz, out of the central bank, according to knowledgeable sources in Kuala Lumpur.
Rosmah is said to be enraged over leaks of her personal financial details. She also fears that Zeti has detailed information on the 1Malaysia Development Bhd. scandal that could bring down the government and the prime minister. Insiders say Rosmah, a lightning rod for criticism over her lavish spending, is the field marshal directing the defense of her beleaguered husband's government.
Malaysia's Top Two Pols Go Toe to Toe
Asiasentinel, 27/07/15 -- On July 26, at a gala reception honoring the 76-year-old former Malaysian Prime Minister Abdullah Ahmad Badawi, Prime Minister Najib Razak and his deputy, Muhyiddin Yassin, sat down together for a jovial get-together as the cameras flashed. A short distance away at another VIP table, Najib's equally jovial wife, Rosmah Mansor, sat next to Muhyiddin's wife Noorainee Abdul Rahman.
But, according to people at the luncheon, the smiles were only for the camera. Not a word was spoken among the four, an indication of the growing tension that has paralyzed politics in the country and begun to affect the economy as confidence in the currency has waned to a 17-year low, driving up the cost of imports and contributing to voter irritation.
More than Candles at Stake as Mahathir and Najib Hold Dueling Parties
Asiasentinel, 23/07/15 -- Tomorrow night [July 24], a unique political contest is about to take place in Kuala Lumpur, in the form of competing birthday parties for Prime Minister Najib Tun Razak and his nemesis, former Premier Mahathir Mohamad, who is determined to drive Najib from office.
The simultaneous events have Malaysia's elites scratching their heads and trying to figure out which party to attend. It will be possible to attend both, but according to a politically well-wired source, both sides will be watching to see who is going to attend what party first, and for how long.
Malaysian Crackdown Coming on Dissidents?
Asiasentinel, 23/07/15 -- Whether the fears are overblown, as skeptics say, a widening chorus of criticism over the alleged personal corruption of the prime minister and his wife, Rosmah Mansor and other members of the family, as well as the endemic corruption in the United Malays National Organization, has been met with charges on the part of government officials that the country and parliamentary democracy are under attack from shadowy international interests. Establishment figures have begun calling for widespread arrests to break up the cabal and naming names of journalists and opposition figures as involved.
Backed by UMNO cadres, Malaysian premier avoids charges by going on offense
Asiasentinel, 17/07/15 -- Always underlying attacks on Malaysia is the spoken or unspoken premise that unnamed international powers – and local ones, presumably connected with the Chinese minority – are out to bring down his government for political reasons. It is a supposition that has long been fostered by Mahathir, who has issued repeated warnings that the US has been out to get his country, either because of rogue CIA elements or Israel's Mossad.
Najib, playing off Mahathir's fears, has said the claims in the Journal's story are "an effort to undermine confidence in our economy, tarnish the government, and remove a democratically elected prime minister," dismissing them as political sabotage.
Bribery scandal linked to Malaysian Prime Minister Najib Razak

The Sydney Morning Herald, Jul 14 2015 -- It's understood that while he was deputy prime minister, Mr Najib's office was allegedly used by a middleman to negotiate a kickback from one of the Reserve Bank firms.
A representative for Mr Najib has dismissed the claims and is threatening legal action. The information about Mr Najib and Mr Badawi is not derived from the Australian court proceedings, but from an ongoing investigation by Fairfax Media involving high-level sources across Australasia.
However, on Tuesday afternoon, Victoria's Supreme Court revoked a suppression order obtained last year by Australia's Department of Foreign Affairs and Trade and which names Mr Najib.
The court order had prevented the publication of any information aired in ongoing Reserve Bank bribery court proceedings that "reveals, implies, suggests or alleges" that "Mohammad Najib Abdul Razak, currently Prime Minister (since 2009) and Finance Minister (since 2008) of Malaysia" ever "received or attempted to receive a bribe or improper payment".
UMNO's Corporate Cornucopia
Asiasentinel, 14/07/15 -- At least 23 of Malaysia's biggest companies (see list below) appear to have been vehicles for Umno to siphon off vast amounts of money in government contracts as Mahathir's plans went awry. The companies and the people who run them are so hard-wired into Umno, the government and its investment arms that de-linking them would probably destroy the party. That in effect makes a mockery of Prime Minister Najib Tun Razak's widely publicized speech in July in which he promised to root corruption out of his party.
How Malaysia Became a Kleptocracy
Asiasentinel, 14/07/15 -- During the past 50 years, Malaysia has slipped from economic role model for developing countries to lackluster follower, with structural inefficiencies and deep corruption that have made the economy extremely uncompetitive. Commercial opportunity for new entrants in many parts of the economy is now negligible and cadres with vested interests intend to make sure it stays that way. It is distorted, starved of innovation, diversity, fair access to markets, market competitiveness and entrepreneurial opportunity. Malaysia has become a net exporter of investment capital – capital flight, according to an Asian Development Bank series paper, an indicator of underlying structural weakness.
Malaysia Must Overcome Its Troubled Past
Bloomberg, 10/07/15 -- If the prime minister truly wants to clear his name, he should abandon his threats to sue the Journal and instead open his books to investigators -- something he hasn't yet pledged to do or confirmed he's done. He should make way for a truly independent investigation of the charges against him -- perhaps structured as a royal commission with wide-ranging powers. More important for avoiding such scandals in the future is to eliminate the patronage politics that encourage corruption, and this will require far broader reform. Malaysia needs a thriving opposition and a freer media, as well as a far more powerful and independent anti-corruption agency. Stricter campaign funding rules would reduce the risk of vote-buying. Officials' personal finances should be made more transparent.
Was Banker's Murder Connected to Malaysia's 1MDB?
Asiasentinel, 09/07/15 -- Lim Yun Soo is on the run. He left Malaysia for Australia shortly after the police began to connect him to the case. Malaysia has asked Interpol for help in finding him, Najadi said he has received reports from his own security apparatus that Lim had fled to Australia and then to China aboard regularly scheduled airliners. Najadi, now a Moscow-based international security consultant, asked how, with biometric passports today, Lim was able to pass through two sophisticated airports as a wanted man unless he had help. He said he has received reports, not verified, that Lim had returned to Malaysia under an assumed identity.
Deputy Youth and Sports Minister accused of allegedly siphoning RM5m of ministry's allocation
therakyatpost.com, 07/07/15 -- "End of last year, in October 2014, Datuk Seri Utama (Samy Vellu) had a meeting at his house and it was attended by Datuk Seri Dr S. Subramaniam, Saravanan, (Datuk Seri) S. Vell Paari, Datuk T. Mohan and a few others.
"There they discussed and agreed to form a pool of funds as the capital required to bribe a few government officials and MIC people so they can kick out Datuk Seri Palanivel.
"The rest all contributed, with Saravanan contributing RM5 million taken from the RM19 million that YB Khairy Jamaluddin gave him recently for NAAM, and now the fund is about RM40 million," stated the letter as was read by Gobalakrishnan at a press conference at Seri Pacific Hotel here today.
The letter also alleged that Saravanan was involved in handing out RM2 million to High Court judge Datuk Asmabi Mohamad in return for her delivering judgments siding with Dr Subramaniam's faction.
According to the anonymous sender, the fund was not only channelled to government officials, but also to MIC members whose support was allegedly bought for as low as RM300.
Asiasentinel, 06/07/15 --The question is whether, in the face of the devastating charges and the lack of a Clinton-like denial [I did not have sex with that woman] he can manage to replicate the repeated votes of confidence he has wrung from UMNO leaders in the past.
According to several sources in Kuala Lumpur, the revelations might help to speed a realignment of the country's long-standing political structure. That was signaled by a statement of seeming support for Najib on Saturday by Harun Din, the spiritual leader of the fundamentalist Parti Islam se-Malaysia, or PAS, which for the past seven years has been an integral part of the Pakatan Rakyat opposition coalition.
Could this be the Smoking Gun for Malaysia's PM?
Asiasentinel, 04/07/15 -- Those emails were passed to Clare Rewcastle Brown, the editor of Sarawak Report, and reportedly to Mahathir. Justo's arrest and accusations that he had tampered with them to make them more damaging is considered to be part of a move by Najib to discredit Mahathir before he could feed more documents and evidence to the press. Mahathir is believed to have additional evidence of illegal transfers of money out of the country by Rosmah Mansor, Najib's wife, with the help of Jho Taek Low, the flamboyant young financier who helped Najib set up 1MDB in 2009.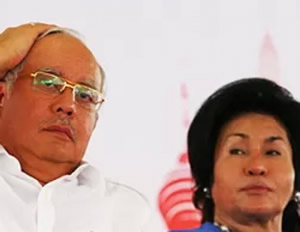 He is said to also have additional information about the mysterious death of Altantuya Shaariibuu, the Mongolian translator and party girl who was shot to death by two of Najib's bodyguards in 2006. The murder remains one of the most sensational in recent Malaysian history.
Indian community deserves better
The New Straits Times, July 01 2015 -- It appears that all these ego-inflated MIC leaders are selfishly guarding their positions and its associated goodies at the expense of the Indian community. If the warring MIC factions were sincere in wanting to serve the community, they should have reached a compromise by now. The MIC crisis has put the Indian community into disrespect. The weakening of MIC's position in BN has been taken advantage of by certain individuals and groups to humiliate the Indian community indirectly. If MIC had been strong and committed to serving the community, I don't think the "drink your own urine" remark would have been made.
MIC struggle is all about who gets what
FMT, June 28 2015 -- Leadership conflicts in the MIC have nothing to do with the progress or development of the Malaysian Indian community, but about leaders having access to power, prestige and wealth.
It is a figment of imagination that the defeat of forces aligned to Palanivel will ensure a "new era" for the community, as suggested by Subramaniam.
Subramaniam is completely dependent on Samy Vellu. For all intents and purposes, it is the latter calling the shots.
On the other hand, Palanivel has promised to retrieve back all the properties in the form of land and buildings "hijacked" by Samy Vellu and his cronies in the past. Will he able to do it? What about his long association with Samy Vellu as his trusted lieutenant?
M Suganth, TNN, Jun 26, 2015 -- The problem with Kaaval is that it offers nothing new in terms of story and presentation. Almost every development feels been there done that. The story of an encounter specialist is something that Gautham Menon did with much finesse in Kaakha Kaakha, and this film hardly adds anything to it. Interestingly, the director ropes in Gautham to provide the voice-over in the opening scenes. The villain is the generic gangster that we often see in our films and so, he hardly comes across as a formidable foe. Then, there is the heroine character, who simply exists because there needs to be a love interest for the hero.