e7
Indian of the week
Star of the week 2007
Star of the week 2006
Star of the week 2005
An overview of Malaysia's political history
Malaysia's Election May Be Done Deal
Monday, Feb. 18, 2008 By Baradan Kuppusamy -- The Chinese and Indians are increasingly fed up with the government's longstanding affirmative-action policy that favors Malays in everything from university education to government contracts. Many Indians, the country's poorest ethnic group, accuse the government of persistent racial discrimination (......more)
Samy Vellu's days are numbered - Subra as next MIC leader
Lim Kit Siang Feb 19, 2008 -- I expect Subra to make a political comeback on Sunday on his nomination as a Barisan Nasional candidate for the 12th general election and preparatory to his joining the Cabinet – something Subra had been denied and been waiting for nearly three decades. (......more)
Malaysian PM opens election campaign with cabinet warning
Feb 24, 2008 -- (AFP) — Malaysian Prime Minister Abdullah Ahmad Badawi kicked off his election campaign Sunday with a warning that his cabinet ministers were not assured of jobs in a new administration. (....more)
Samy Vellu Slams Opposition For Using Temples To Campaign
Feb 11 (Bernama) -- "They go in and pray for just five minutes but talk politics for 50 minutes," the Works Minister told reporters at the launching of the Permas Jaya Second Bridge project, which was also attended by Johor Menteri Besar Besar Datuk Abdul Ghani Othman, here today. (....more)
Tribute to Athi Nahappan and Janaki
(Media Conference Statement welcoming Ishwar Nahappan as the latest member for DAP in Penang on Sunday 10.2.08)(....more)
Indian Discontent Fuels Malaysia's Rising Tensions
The New York Times, February 10, 2008 " (....more)
Ishwar Nahappan joins DAP
(Media Conference Statement by Ishwar Nahappan on joining the DAP in Penang on Sunday, 10th February 2008 at 10.30 am)
My father Tan Sri Athi Nahappan died 32 years ago . On April 4th 1976 , one month before he died he made a speech at a dinner in his honor by the Penang State MIC at Wisma Perseketuan .Let me read you a paragraph from his speech . (...more)
Subra tight-lipped about comeback
07 February, 2008, NST Online -- Former MIC deputy president Datuk S. Subramaniam's supporters are on the offensive for their leader's political comeback. A source from Subramaniam's inner circle claimed that their leader had met Barisan Nasional's top leadership on the possibility of contesting a seat. (.......more)
Civil Society Leaders Enter Election Fray
Analysis by Baradan Kuppusamy

Feb 13 (IPS) - Malaysia's Prime Minister Abdullah Badawi had parliament dissolved Wednesday, paving the way for snap elections that political analysts say will see the opposition gain ground thanks to voter discontent over rising prices, crime and ethnic tension. (.....more)
We Are Ready Anytime, Anywhere, Says Samy Vellu Feb 13 (Bernama)
Parliament dissolved, elections on Wed, Feb 13, 08 The Star
State and Parliament Seats contested by Indians
| | | | | | |
| --- | --- | --- | --- | --- | --- |
| State | Dist | District | Voters | Ruling Party | Opposition |
| Johor | N31 | Kahang | 16,962 | Vidyananthan Ramadhan (BN-MIC) | Abdul Halim Dawam (PKR) |
| Johor | N33 | Tenggaroh | 20,100 | T. Murukasvary (BN-MIC) | Shahar Abdullah (Pas) |
| Johor | N40 | Tiram | 32,944 | Datuk Maulizan Bujang (BN-Umno) | Kumutha Rahman (PKR) |
| Johor | N41 | Puteri Wangsa | 27,612 | Abdul Halim Suleiman (BN-Umno) | M. K. Selrakamaran (PKR) |
| Johor | N43 | Permas | 34,080 | M Munusamy (NBN-MIC) | Syed Othman Syed Abdullah (Pas) |
| Johor | N44 | Tanjong Puteri | 46,922 | Adam Sumiru (BN-Umno) | Subramaniam Paidathally (PKR) |
| Johor | P140 | SEGAMAT | 40,677 | Subramaniam A/L KV Sathasivam (BN-MIC) | Pang Hok Liong (DAP) |
| Kedah | N22 | Gurun | 21,819 | Dr Leong Yong Kong (BN-MCA) | B.Kalaivanar (PKR) |
| Kedah | N25 | Bukit Selambau | 30,850 | S Krishnan (BN-MIC) | Saiful Izham Ramli (PKR) |
| Kedah | N34 | Lunas | 30,075 | S Ananthan (BN-MIC) | Mohd Razhi Salleh (PKR) |
| Kedah | P17 | PADANG SERAI | 56,882 | Datuk Boey Chin Gan (BN-MCA) | N. Gobalakrishnan (PKR) |
| Melaka | N7 | Gadek | 10,749 | Datuk Abdul Ghafar Atan (BN-Umno) | S. Kanageswari (PKR) |
| NS | N22 | Rahang | 14,195 | Datuk Yip Chee Kiong (BN-MCA) | Arumugam Karuppan (DAP) |
| NS | N24 | Senawang | 12,915 | Datuk Woo Ah Lek (BN-Gerakan) | Gunasekaran A/L Palasamy (DAP) |
| NS | N33 | Port Dickson | 11,774 | Datuk T. Rajagopalu (BN-MIC) | Ravi A/L Munusamy (PKR) |
| NS | N36 | Repah | 15,688 | Yap Seong Fook (BN-MCA) | Veerapan A/L Supermaniam (DAP) |
| NS | N7 | Jeram Padang | 9,951 | V Mogan (BN-MIC) | Manoharan A/L Kanan (PKR) |
| NS | P132 | TELOK KEMANG | 59,944 | Datuk S. Sothinathan (BN-MIC) | Kamarul Baharin Abbas (PKR) |
| Pahang | N35 | Sabai | 9,458 | Datuk M Davendran (BN-MIC) | D. Kamache (DAP) |
| Pahang | P78 | CAMERON HIGHLANDS | 23,366 | S .K. Devamany (BN-MIC) | J. Aplasamy (DAP) |
| Pahang | P89 | BENTONG | 53,463 | Datuk Liow Tiong Lai (BN-MCA) | Ponusamy Govindasamy @ Ram (PKR) |
| Perak | N24 | Hulu Kinta | 28,782 | Datuk Rusnah Kassim (BN-Umno) | Ayyathurai (PKR) |
| Perak | N30 | Buntong | 21,930 | Lee Tung Lai (BN) | Sivasubramaniam (DAP) |
| Perak | N33 | Tronoh | 23,887 | Lee Kim Choy (BN-MCA) | V Sivakumar (DAP) |
| Perak | N40 | Malim Nawar | 23,226 | Chai Song Poh (BN-MCA) | Keshvinder Singh (PKR) |
| Perak | N42 | Tualang Sekah | 16,525 | Norli Mohd Radzi (BN-Umno) | M. Nadarajah (PKR) |
| Perak | N46 | Chenderiang | 18,028 | Mah Hang Soon (BN-MCA) | Arjunan Muthu (PKR) |
| Perak | N51 | Pasir Panjang | 26,125 | Datuk Dr. S Vasan (BN-MIC) | Mohammad Nizar Jamaluddin (Pas) |
| Perak | N54 | Hutan Melintang | 20,625 | S Thangasvari (BN-MIC) | Kesavan Subramaniam (PKR) |
| Perak | N57 | Sungkai | 17,218 | Datuk S Veerasingham (BN-MIC) | N Sivanesan (DAP) |
| Perak | N59 | Behrang | 18,552 | Datuk M Ramasamy (BN-MIC) | Jamaluddin Mohd Radzi (PKR) |
| Perak | P60 | TAIPING | 65,455 | Datuk M. Kayveas (BN-PPP) | Nga Kor Ming (DAP) |
| Perak | P62 | SUNGAI SIPUT | 47,424 | Datuk Seri S Samy Vellu (BN) | Dr D Jeyakumar (PKR) |
| Perak | P65 | IPOH BARAT | 68,910 | Datuk Yik Phooi Hong (BN-MCA) | M. Kulasegaran (DAP) |
| Perak | P72 | TAPAH | 38,245 | Datuk M Saravanan (BN-MIC) | Tan Seng Toh (PKR) |
| Perak | P76 | TELOK INTAN | 51,170 | Mah Siew Keong (BN-Gerakan) | M.Manogaran (DAP) |
| Pinang | N16 | Perai | 14,108 | L. Krishnan (BN-MIC) | P. Ramasamy (DAP) |
| Pinang | N32 | Seri Delima | 20,093 | Loh Nam Hooi (BN-MCA) | R.S.N. Rayer (DAP) |
| Pinang | N35 | Batu Uban | 21,218 | Goh Keng Sneah (BN-Gerakan) | Raveentharan (PKR) |
| Pinang | N9 | Bagan Dalam | 17,161 | P. Subbaiyah (BN-MIC) | A. Thanasekharan (DAP) |
| Pinang | P46 | BATU KAWAN | 47,602 | Tan Sri Dr Koh Tsu Koon (BN-Gerakan) | Dr P. Ramasamy (DAP) |
| Pinang | P51 | BUKIT GELUGOR | 63,447 | Datuk Koay Kar Huah (BN-MCA) | Karpal Singh (DAP) |
| Selangor | N10 | Bukit Melawati | 12,897 | K.Parthiban (BN-MIC) | Muthiah a/l Maria Pillay (PKR) |
| Selangor | N16 | Batu Caves | 25,720 | T Mohan (BN-MIC) | Amirudin Shari (PKR) |
| Selangor | N24 | Semenyih | 28,203 | Johan Aziz (BN) | S Arutchelvan a/l Subramaniams (PKR) |
| Selangor | N48 | Kota Alam Shah | 24,168 | Ching Su Chen (BN-Gerakan) | M. Monoharan (DAP |
| Selangor | N49 | Seri Andalas | 38,833 | A. Kamalam (BN-MIC) | Xavier Jayakumar a/l Arulanandam (PKR) |
| Selangor | N56 | Sungai Pelek | 17,895 | Datuk Yap Ee Wah (BN- MCA) | A. Sivananthan (DAP) |
| Selangor | N6 | Kuala Kubu Baharu | 18,212 | Wong Koon Mun (BN-MCA) | K. Annamalai Ramu (DAP) |
| Selangor | P103 | PUCHONG | 75,625 | Lau Yeng Peng (BN-Gerakan) | Gobind Singh Deo (DAP) |
| Selangor | P107 | SUBANG | 84,414 | S . Murugesan (BN-MIC) | R. Sivarasa (PKR) |
| Selangor | P109 | KAPAR | 112,224 | Datin Paduka P Komala Devi (BN-MIC) | Manikavasagam Sundaram (PKR) |
| Selangor | P110 | KLANG | 77,816 | Datuk Ch'ng Toh Eng (BN-MCA) | Charles Anthony Santiago (DAP) |
| Selangor | P111 | KOTA RAJA | 71,887 | S Vigneswaran (BN-MIC) | Dr. Siti Mariah Mahmud (Pas) |
| Selangor | P94 | HULU SELANGOR | 63,593 | Datuk G. Palanivel Govindasamy (BN-MIC) | Zainal Abidin Ahmad (PKR) |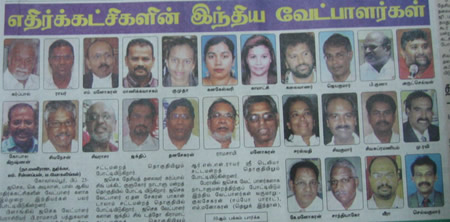 source: malaysia nanban
Indian opposition candidates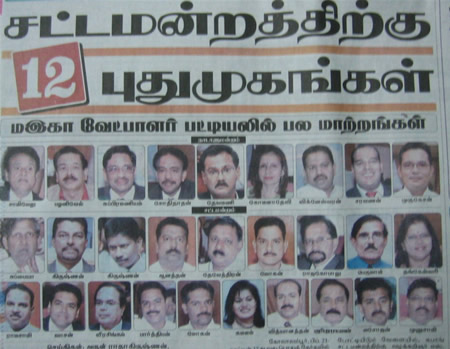 source: makkal Osai
Current ruling party Indian candidates
Samy Vellu "lost his marbles" over Ishwar joining DAP Lim Kit Siang
Malaysian Chinese pose major poll test for PM (Reuters)
Subra tight-lipped about comeback
07 February, 2008, NST Online -- Former MIC deputy president Datuk S. Subramaniam's supporters are on the offensive for their leader's political comeback. A source from Subramaniam's inner circle claimed that their leader had met Barisan Nasional's top leadership on the possibility of contesting a seat. (.......more)
Abdullah Refuses To Be Drawn Into Speculation On Candidates
Asked about Samy Vellu's recent announcement that he would defend his Sungai Siput parliamentary seat, the Prime Minister said: "Anybody can say anything to the press, later on they do something else."
"I will defend woh foong (Cantonese for Sungai Siput)," said Samy Vellu, who has held the seat since 1974. (....more)
Samy takes on hecklers in Prai
The Star, Monday February 18, 2008
PRAI: MIC president Datuk Seri S. Samy Vellu took a group of young hecklers "head-on" at Chai Leng Park when he walked straight up to them to find out what their grievances were. (...more)
Election Squad In MIC Branches To Secure Indian Votes
Feb 8 (Bernama) -- "They (squads) will be deployed in all the 'peti undi' (voting booths) in their respective areas, where they will conduct house-to-house visits to reconfirm their (members') votes for the Barisan Nasional," Samy Vellu (....more)

Subra bows out after raising expectations Baradan Kuppusamy | Feb 25, 08 Malaysiakini -- Using the Makkal Osai Tamil daily, former MIC deputy president S Subramaniam had everyone, at least in the Indian community, on their toes holding their breath with speculative stories...
Malaysia's ruling coalition rolls out election campaign to counter price
The Associated Press
February 25, 2008 -- The media offensive — begun on the second day of a 13-day formal campaign period — illustrates the National Front's advantage of having extensive funds to pour into publicity and widespread support from the pro-government mainstream media. (......more)
Commotion during Samy's visit to BN ops centre in Bagan Dalam
By : Sharanjit Singh and S. Arulldas
Tues, Feb 26, 2008 NST-- There was a slight commotion when embattled MIC president Datuk Seri S. Samy Vellu was about to leave the BN operation centre in Bagan Dalam here today. (........more)
Seven issues affecting the Indians
MIC Info Chief Lodges Police Report Against Former Business Partner
List Of 10.8 Million Voters Distributed To All Umno Divisions
Do or die battle for MIC By Baradan Kuppusamy , The Star, Monday, Feb 04, 2008
Indians' Future With BN, Says Najib Feb 3 (Bernama)
Hindraf leader not to contest against Samy Vellu Thursday, February 7, 2008
Kuala Lumpur (PTI):
Samy rubbishes blogs of him not contesting The New Straits Times
BN likely to lose Indian votes: Abdullah Today Online, Monday, Feb 04, 2008