Malayandi retains his position
Saturday, 10 March, 2007
Somehow, Malayandi retained his chief editor position in Samy's Tamil Nesan contrary our earlier report that he has been dropped in favor of Agni, the new comer from defunct Tamil Kural. Vell Parri, samy's good son, may not be in the mood to rock the boat at least for now and concentrating more on attracting Pandithan followers.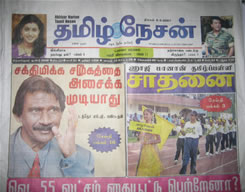 Believe it! Pandithan getting prominent positive coverage.
Tamil Kural disappeared again
30/05/06 Indra Bhai's -- wife of the late charismatic Tamil daily editor, Athi Kumanan – Tamil Kural is playing hide and seek again. After several days of absence, the paper started printing a week ago failed to hit the street today. Sources say, Tamilmani, the publishing license holder walked out of the company owing to some financial misunderstanding with the management. During this brief period of publishing the daily's news and articles were more pro-Samy Vellu.
Athi's wife strikes back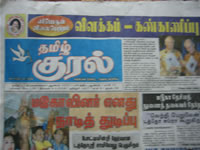 Indra Bhai after all is not giving up her hold on Tamil Kural. Her faction managed to print limited copies for circulation in Kuala Lumpur area on 03/05/06. This means two version of Tamil Kural hit the street.
Tamil Kural shareholders:
Dato Puvan – 50%
Indra Bhai - 20 %
Tamil Mani's daughters – 10 %
Jaswin Kaur (Nanban Company secretary) – 20%
Tamil Mani holds the Publishing license.
Sources say, Indra Bhai has cut a deal with Tamil Mani, who may likely to be the new editor, and is actively looking for a printing press. 06/05/06